About The Lake Chapala Area
Lake Chapala is nestled in the beautiful Sierra Madre mountains just 40 minutes south of Guadalajara, Mexico's second largest city. At an elevation of approximately 5,000 feet and ringed by mountains, Lakeside has a climate cited by National Geographic as one of the best in the world.
Along with the weather and economic benefits, North Americans are also enraptured by the breathtaking scenery and picturesque towns and villages that hug the shoreline. So it's no wonder that between 20,000 and, by some estimates, up to 30,000 Americans and Canadians have chosen to call Lake Chapala home. The local expatriate population consists of full-timers who live here year-'round, snowbirds who escape the cold and spend anywhere from one to six months here and, more recently, a growing number of sunbirds from southern US states who come here in the summer months to escape the stifling humidity, sweltering heat and worsening hurricanes.
Whether full- or part-time, most of these North Americans (sometimes called "gringos") live on the Northshore, within easy access of the Guadalajara International airport as well as the sophisticated shopping and cultural life of Guad, as the locals refer to it. Because of this large concentration of expats, the social life is abundant. There are countless cultural activities, a wide range of art galleries, gift shops and restaurants either within walking distance or just a short drive away.
Along with the near-perfect weather, low cost of living, rich local cultural, first-world amenities and convenient location, it's no mystery why so many North Americans are drawn to the dazzling scenery along Lake Chapala. With more than 20,000 Americans and Canadians who have chosen to reside here, the Lakeside area is one of the most popular expat communities in the western hemisphere.

How many times have you heard the common lament: "A few years ago I could have purchased a house at a fraction of the current cost?" Well, there are still values to be found Lakeside in all types of properties, from residential to large parcels of land. While the law of supply and demand is evident in this market, property prices remain significantly lower than many other expat communities – particularly those along the sea coasts. You'll also enjoy property taxes which are less than $300 USD for most homeowners, and home maintenance costs which are a small fraction of those in the U.S. and Canada.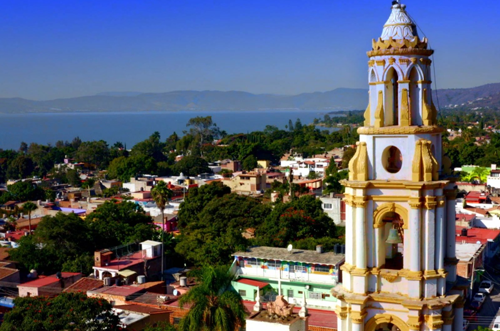 Chapala With nearly 50,000 inhabitants, Chapala is the largest town along the lake, and a quintessential Mexican locale which is fast growing into an attractive, less expensive alternative to the towns that lie west. The open mall on both sides of the street coming into Chapala from Guadalajara, all the way to the shores of the lake, is paved with tile and has a lovely center island with tropical trees, shrubs and flowers. There are several restaurant and sidewalk cafes near the center of town serving as focal points for socializing and they also offer good breakfasts and afternoon snacks.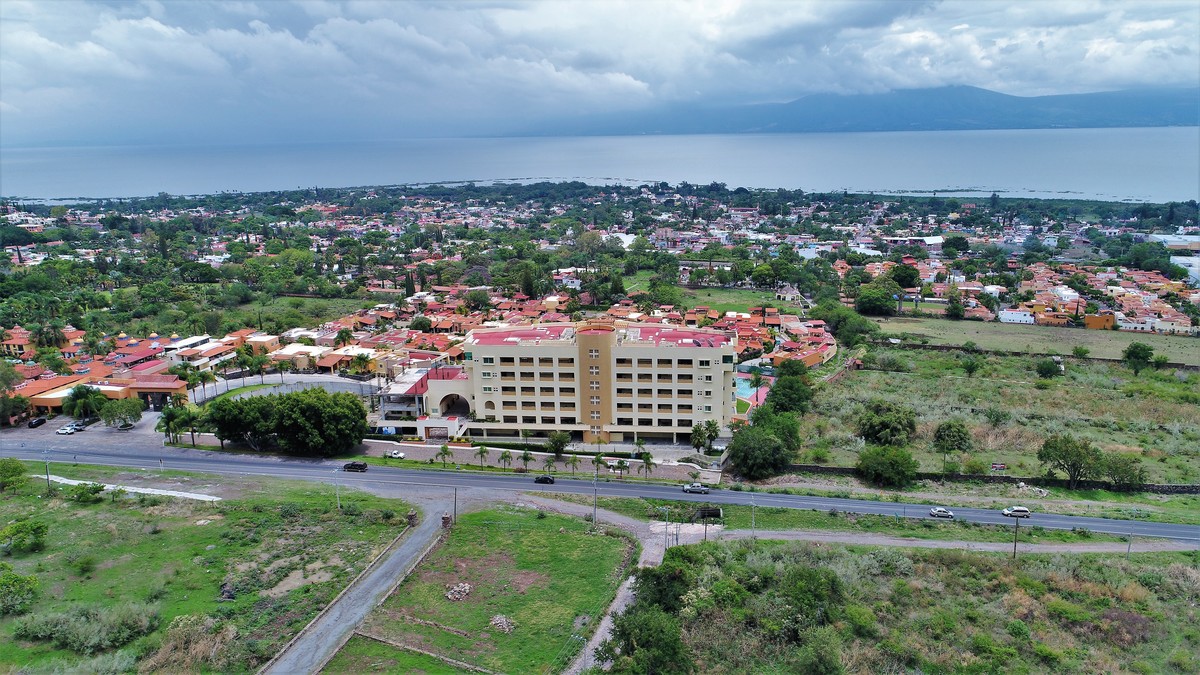 San Antonio Just East of Ajijic and La Floresta is the quiet residential village of San Antonio Tlayacapan, right out of a storybook with its church, town square and cobblestone streets offering a true Mexican village living experience. The neighborhood houses an increasing number of fine restaurants catering to its growing expat community, an upscale food market with many imported goods, shops, furniture stores, a high end butcher, the Lakeside Little Theater where productions in English are presented throughout the year, and a terrific music venue nightclub with frequent live performances in many different genres. Next to the Centro Laguna Shopping Center is a private gated community named El Parquet. It has the feeling of a cohesive village with cobblestone streets, lovely homes, and a central clubhouse with a deluxe pool, a hot tub and a common kitchen and entertaining area.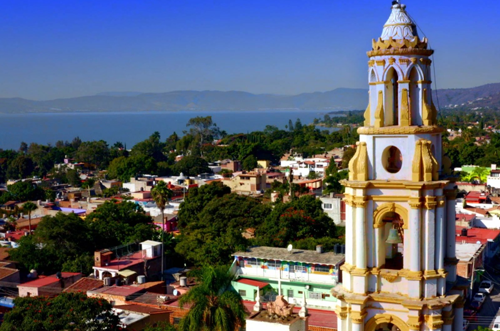 Ajijic (Ah-hee-heek) offers an unparalleled and surprisingly sophisticated quality of life in a quaint, discreet Mexican village…with all the world-class services and amenities of the nearby metropolitan city, Guadalajara. This pre-colonial town on the sunny northern shore of Lake Chapala in Western Mexico's Sierra Madre Mountains was founded by the Nahuatl Indians in the early 1400's under their chief, Xitomatl. It was later colonized in 1652 by Fray Martin de la Coruña of Spain, leading to a unique integration of native and European cultures.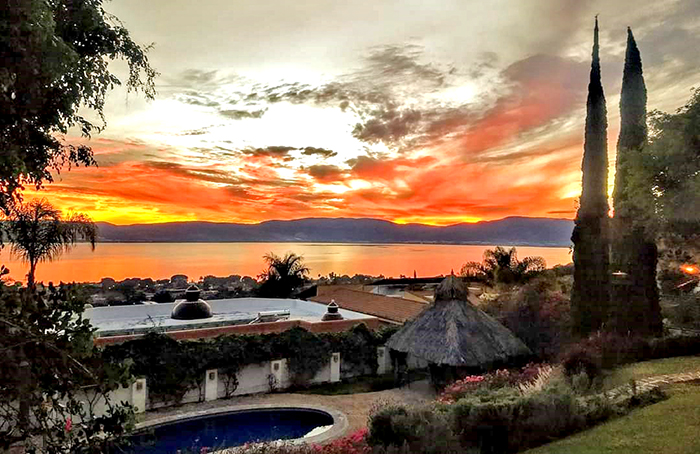 San Juan Cosala Ten minutes west of Ajijic is the village of San Juan Cosala with its famous thermal spas and spouting geyser. The Balneario Hotel is situated on the lakefront. The facility with its large public mineral swimming pools, steam cave and several restaurants is popular with locals and tourists alike. The exclusive Racquet Club, north of the Carretera, is a private gated community. Here, you'll find residences in all architectural styles and at all price points, many with stunning views, along with an array of clay and hard tennis courts. The community also hosts the exclusive La Vita Bella hotel and restaurant with fine food and dazzling views, as well as the exquisite Monte Coxala hotel and spa, which features magnificent natural hot water baths in both indoor and outdoor settings, a full spa and restaurant.

 Jocotepec Jocotepec is the anchor town at the extreme western end of the lake. Its history traces back to 1361 when the Nahua Indians settled there. In 1520 a Spanish expedition led by a cousin of Hernan Cortés conquered the Indians, and in 1529 Jocotepec was founded. The town has rustic charm and is widely known for its beautifully woven sarapes, with their traditional flowered motifs as well as other local handicrafts. Like the town of Chapala, "Joco" as he locals refer to it, is fast becoming a more affordable residential destination for expats looking for the next big real estate deal in this idyllic natural setting along Lake Chapala.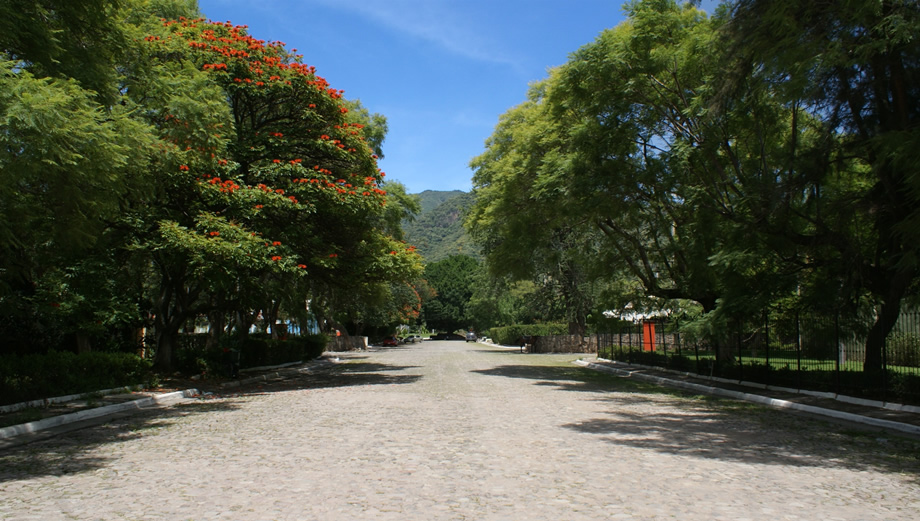 La Floresta
At the east entrance to Ajijic is La Floresta, an upscale, tree-lined residential neighborhood that runs both north and south of the main Carretera. A very desirable place to own a home, the neighborhood is conveniently located walking-distance to everything Ajijic offers, with a good homeowner's association providing security patrol and other fine services. The area features stately homes in many different architectural styles and price points, and many fine restaurants all within easy walking-distance. The stately Hotel Real de Chapala is set along the lake with lovely poolside dining. You'll also find the Lake Chapala Municipal Auditorium – a cultural center with 465 seats, a stage large enough for an 80-piece symphony orchestra and excellent acoustics, which plays host to an annual chamber music festival and numerous other performances throughout the year.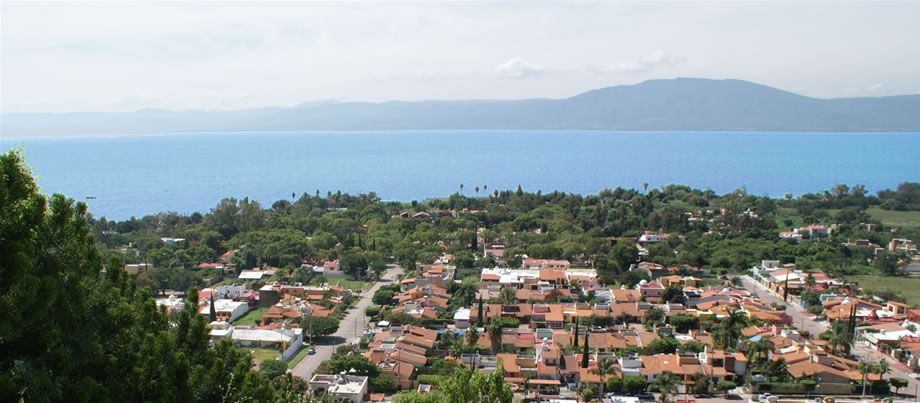 Chula Vista
This upscale, established residential community along the main Carretera in San Antonio winds its way upwards into the mountains and features some of the area's grandest homes. Inside the development you'll find the Chula Vista Country Club, which features a beautiful nine-hole golf course that hugs the mountain. A strong neighborhood association maintains a high quality of services, including potable water, which is a luxury in Mexico.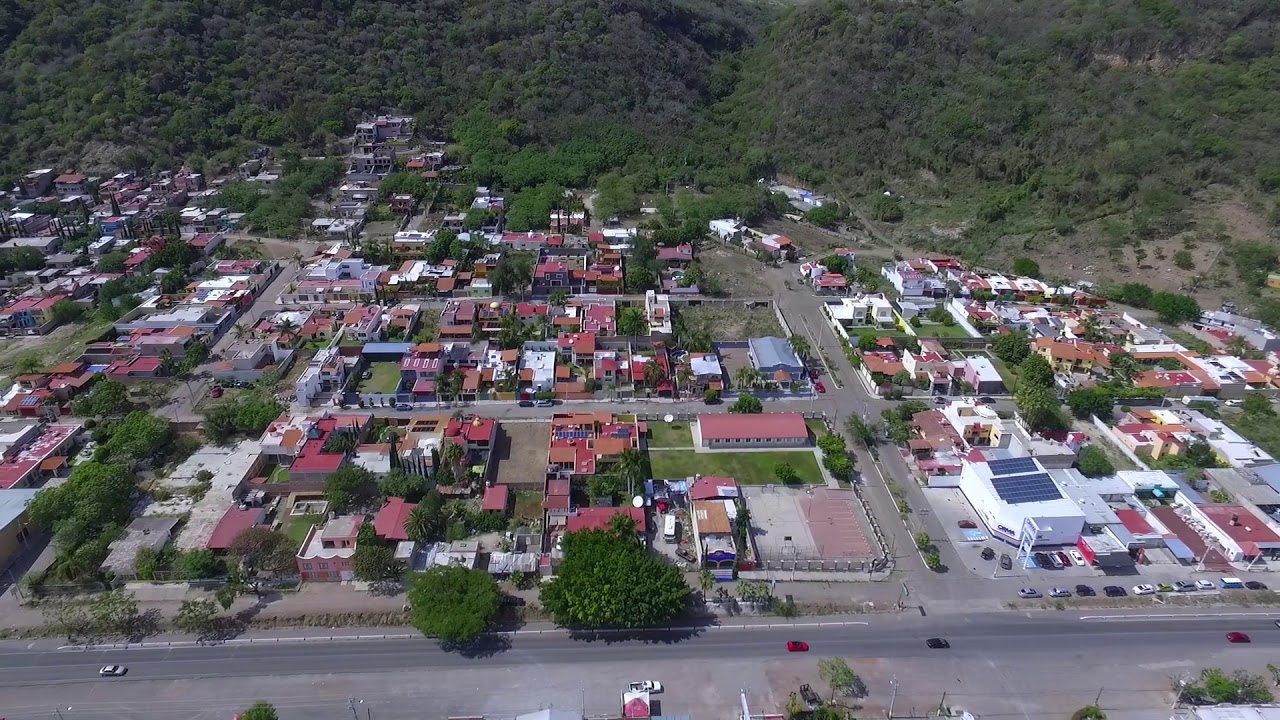 Riberas del Pilar
This residential neighborhood is located between San Antonio Tlayacapan and Chapala, and hosts a range of homeowners including local Mexican, U.S. and Canadian expats, and a number of Mexicans who own a vacation homes. It offers a wide range of home options that are among the least expensive along the lakeside region, including many buildable lots. The neighborhood offers many conveniences such as Pancho's upscale food market, shops, furniture stores, a fast-growing number of restaurants and the Bare Stage Theatre.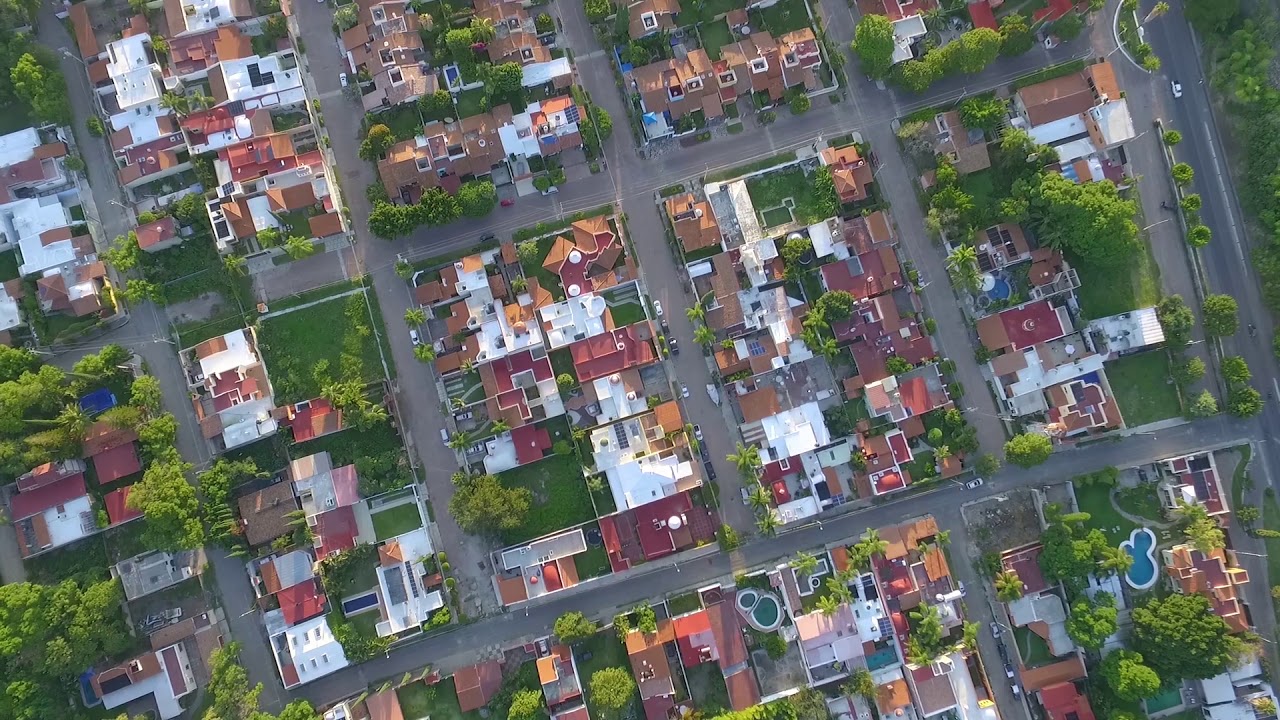 Mirasol
Mirasol, a neighborhood within the western section of Riberas del Pilar, is a collection of nicely planned residential communities and older homes next to available, developable lots. The neighborhood offers residents a quiet and yet truly authentic Mexican ambiance, with easy access to all that Riberas, San Antonio and the wider region has to offer.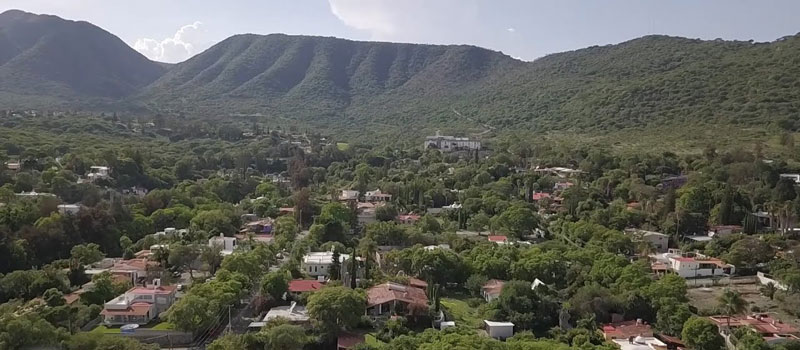 Chapala Haciendas
Three minutes from Chapala on the highway to Guadalajara is Chapala Haciendas, spanning both sides of the highway with nice homes in a tropical setting with lovely views. The Chapala Haciendas Hotel and Restaurant has a casual atmosphere and overlooks the lake. An abundance of shade trees and tropical flowers cover the hillsides, creating a feeling of a tropical paradise.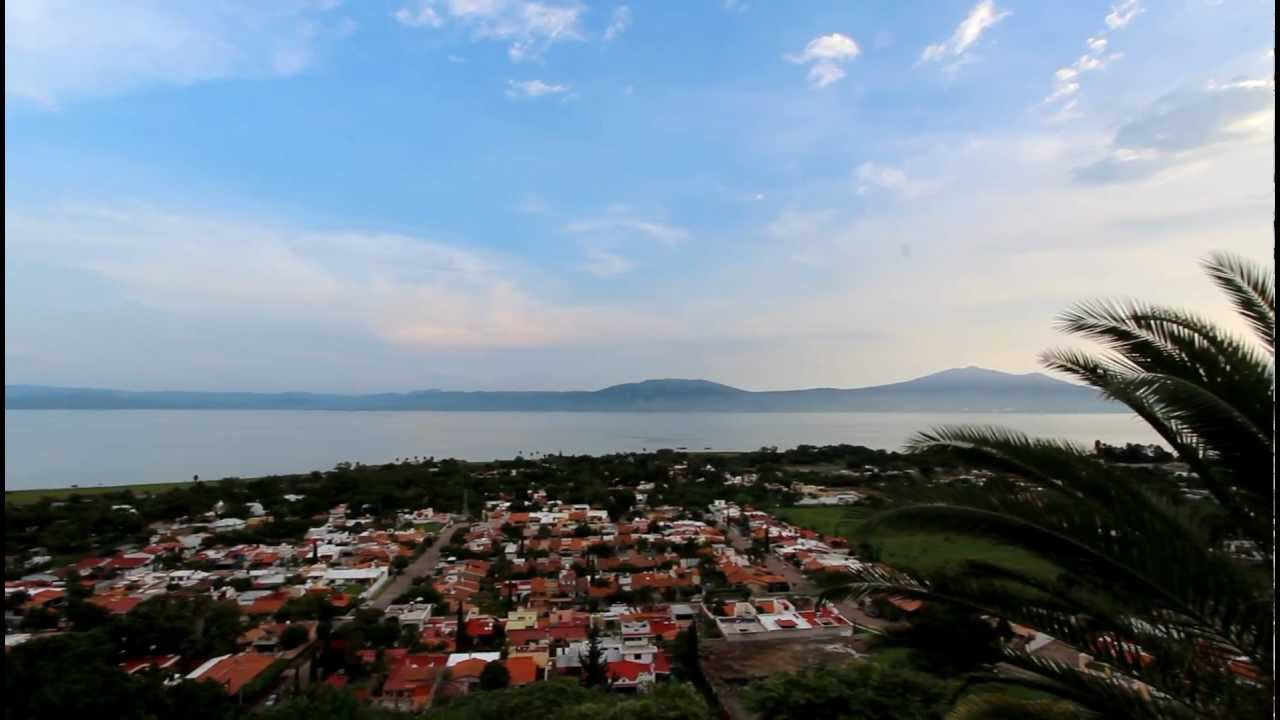 Vista del Lago
The private Chapala Country Club, nestled in the Vista del Lago residential area, is about 15 minutes East of Chapala, near the town of San Nicolas. It features a well-maintained, nine-hole regulation par-36 golf course, and a clubhouse offering lunch and dinner. The area is a good choice for those looking to acquire a home in a golf course setting that is both private and secluded – away from it all in a neighborhood with magnificent lake views.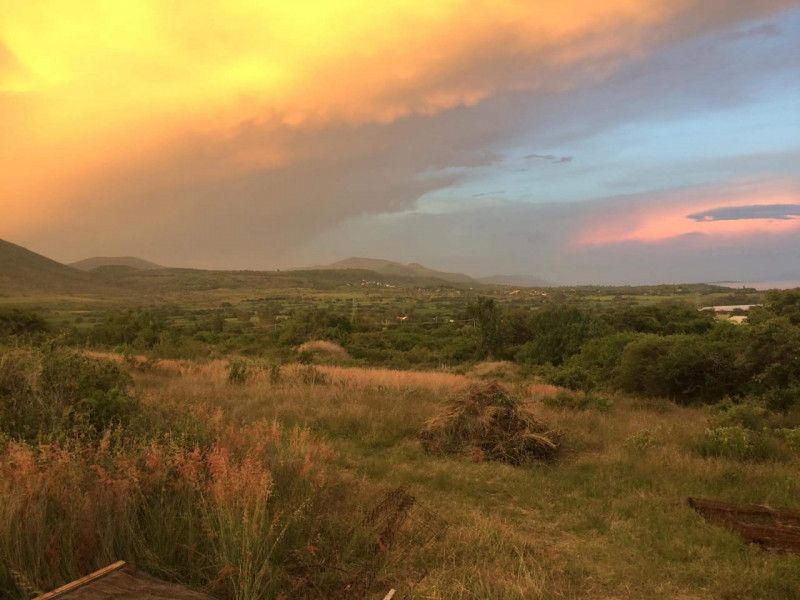 Puerta del Sol
Located a few miles north of Chapala, nestled in the mountains, Puerta del Sol is a favored area for those who are looking for peace and quiet and larger parcels of land. There are many fruit trees, flowering bougainvillea, large custom-built villas and vistas of the lake and mountains.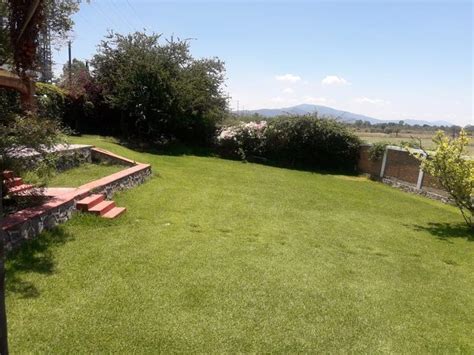 Santa Cruz
A quiet, rural community a few miles east of Chapala, this peaceful town is drawing an increasing number of expats drawn to the tranquil life, advantageous real estate prices, and the ability to own larger parcels of land.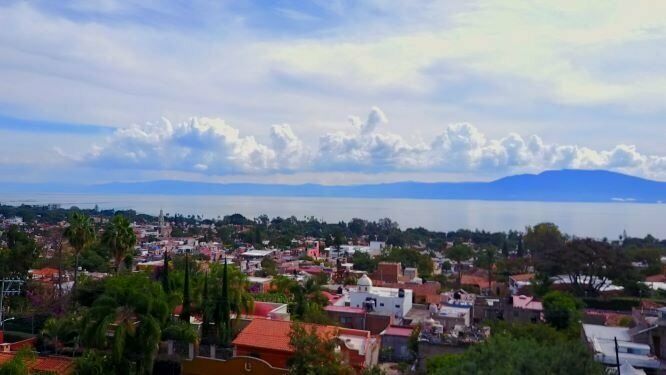 Las Salvias
Las Salvias is perhaps the most prestigious lakeside neighborhood with beautiful homes, panoramic lake views and spectacular tropical growth on the upper side of western Ajijic along the mountains. It has a solid reputation of quality and value, and is generally a good choice for well-to-do foreigners looking for a home in Ajijic. There are traditionally few properties available here. A full-array of restaurants, shops, and services are walking distance, oriented to English-speaking foreign residents and tourists.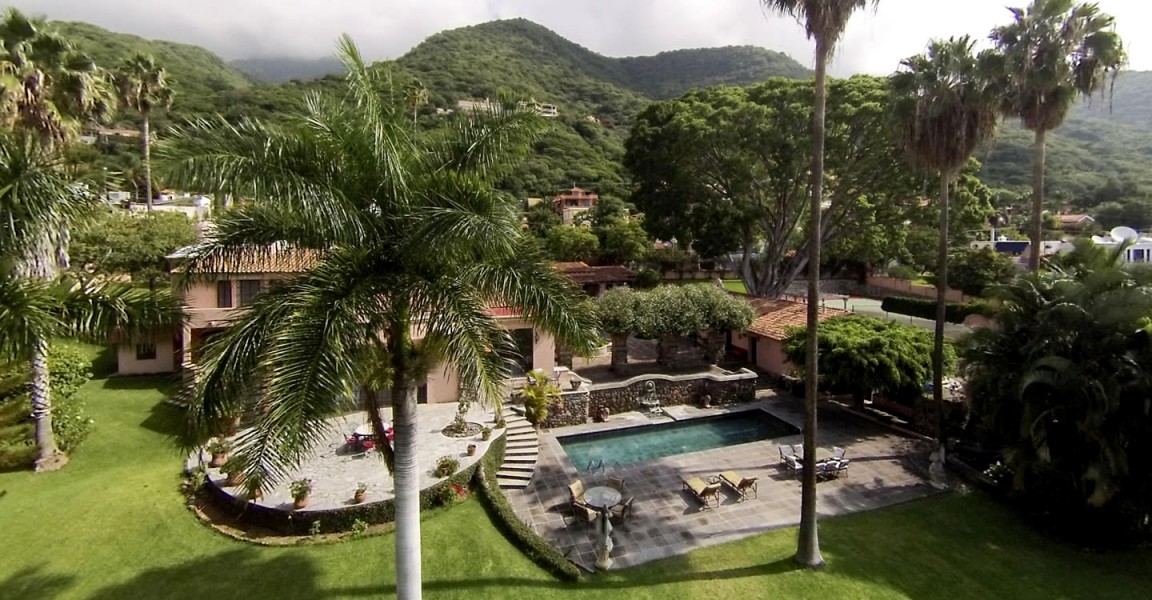 Rancho del Oro and Villa Nova
These two well-maintained neighborhoods sit side by side, about two kilometers from Ajijic's central plaza. They are indistinguishable from each other except for their official boundaries, making a seamless cobblestone residential neighborhood of beautiful, well manicured homes with stunning lake and mountain views. Properties range from magnificent villas with million dollar views, to smaller, accessible homes along the lower section of the mountain. Rancho del Oro (meaning "The Golden Ranch") was a gold mining area in the rush of the 1920s. Entrances to the now-closed goldmines are still visible alongside the upper part of the mountain.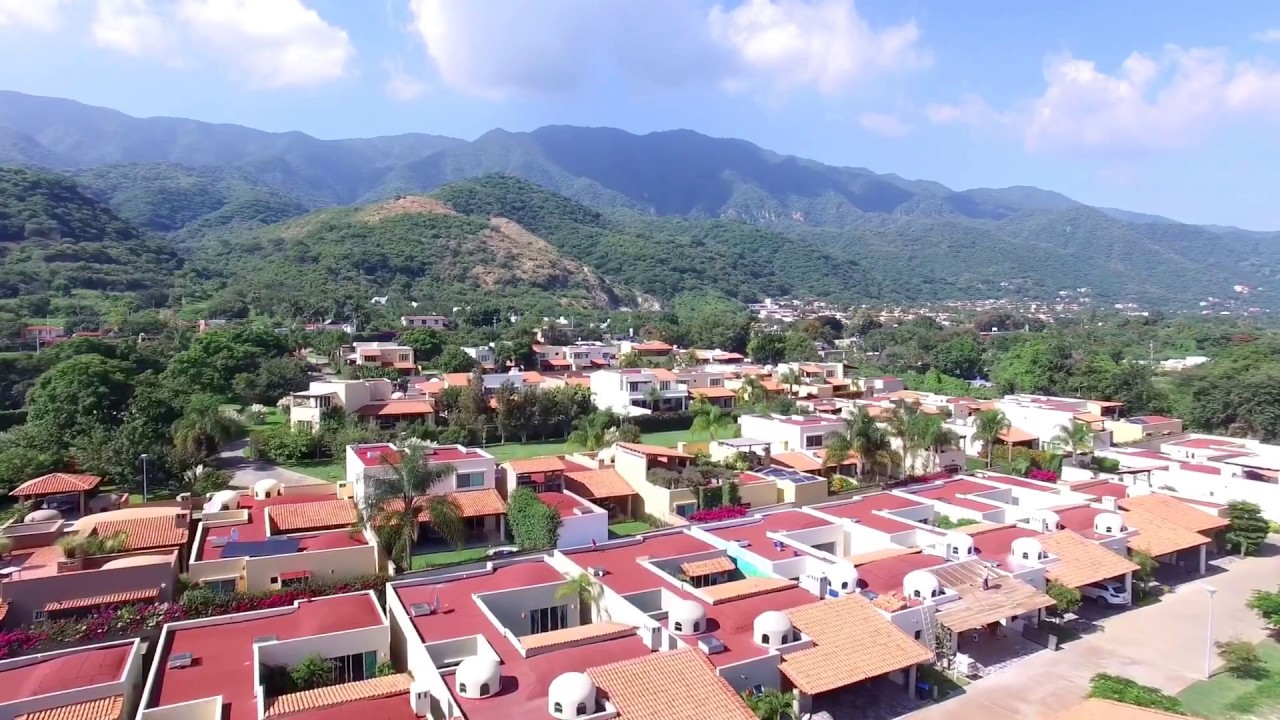 Los Sabinos and La Reserva
These two private gated communities sit near to each other – Los Sabinos along the mountainside slightly closer to Ajijic, and La Reserva which sits below the Carretera slightly more west. They have been created by the same high end developer. Both of these communities boast impressive common areas, with La Reserva being much larger and still under development. It offers a wider range of high-end amenities, including a boutique hotel, restaurant, tennis courts and a boat dock. In either development, you'll be pleasantly surprised when you open the door of any unit, to see the open flow floor plan and outdoor living spaces.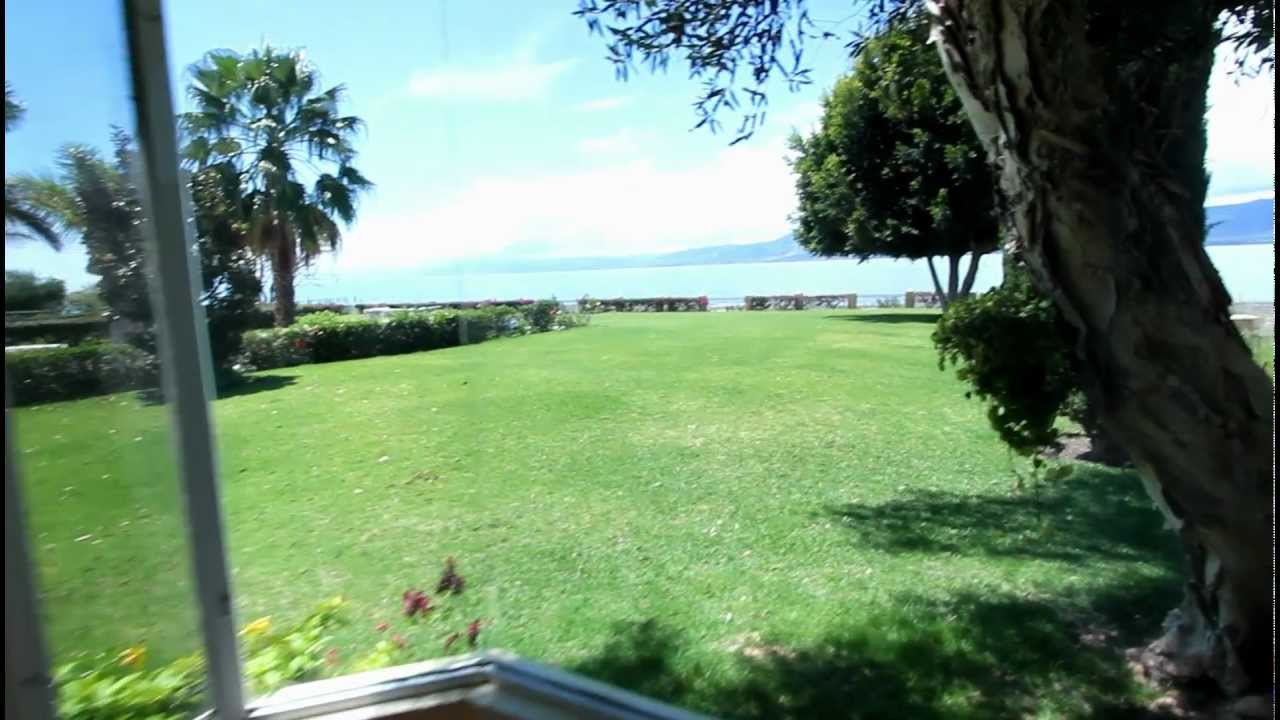 La Canacinta
Located between Los Sabinos and La Reserva is La Canacinta, a small, private gated neighborhood. Most homes in this community are constructed in traditional Mexican style, both large and small. La Canacinta has a nursing home on lakefront property, several small shops and cobblestone streets.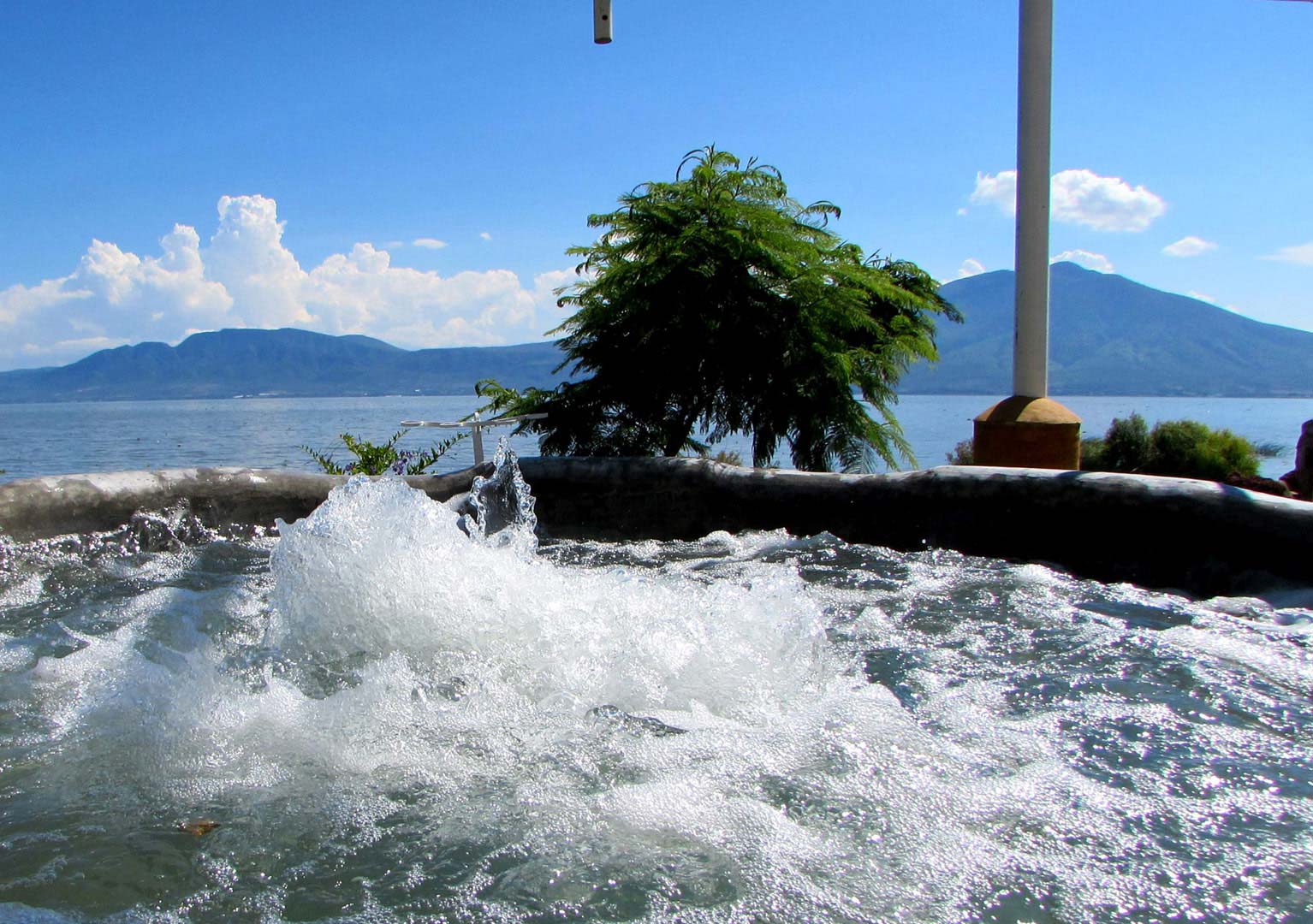 Natura Village
About three miles west of Ajijic, Natura Village, is a gated, planned community, featuring 28 ecological and sustainable homes, plus a common heated pool, two jacuzzis, a roof top garden, entertaining area and adjacent shopping center. The one or two-story home models feature solar panels, sun filtered crystals, reuse of water as well as LED lighting equipment, among other features.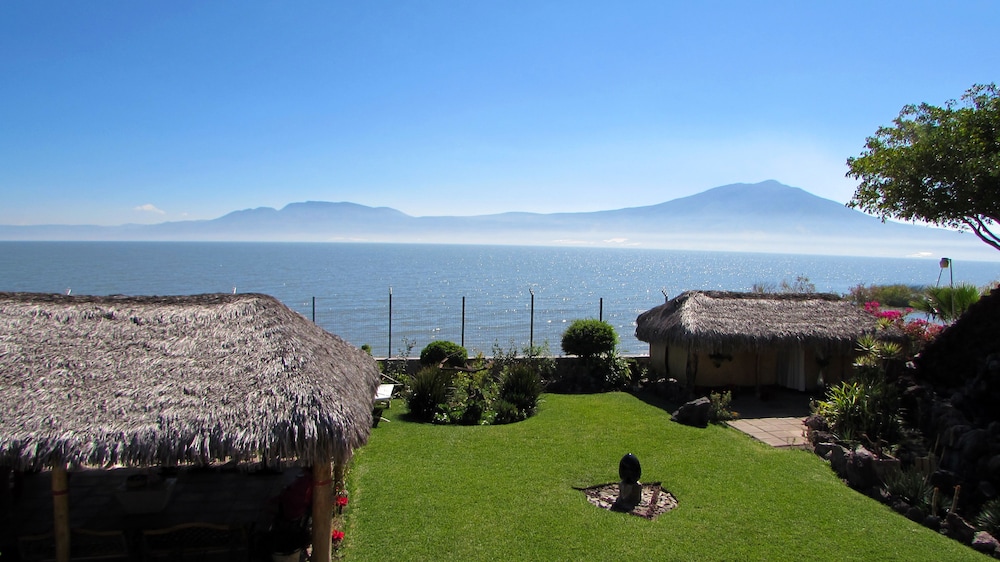 Las Fuentes
Driving west five minutes further west of San Juan Cosala, just before entering Jocotepec, is the modern residential development of Las Fuentes. This area is designed for privacy and exclusive living with some of the best-built homes at lakeside, using top quality materials and accessories. Homes here are definitely USA style, and are available in a range of price points, considerably lower than properties closer to Ajijic.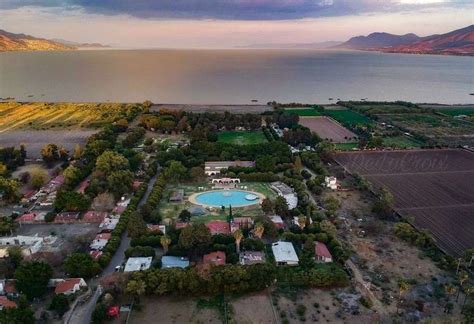 Roca Azul
Roca Azul is a small development located around the West end of Lake Chapala just South of Jocotepec. It is well known for its nice homes, as well as the Roca Azul Country Club where many families gather, especially on Sundays, including those from Guadalajara. The Club overlooks the lake with great views and has as large pools; one with thermal water.
Activities
The large number of active charitable, civic and social groups make it easy to meet people and become a part of Ajijic's community.
Active social groups in the area include Duplicate and Progressive Bridge Clubs, The Humane Society, several Garden Clubs, Culinary Arts Society, The American Legion, The Writer's Group, Needle Pushers, Daughters of the American Revolution, Genealogy Club, Computer Club, Chess Club, Lakeside Little Theater, and two Yacht clubs. The list goes on and on as there are more than 40 English language clubs and charitable organizations lakeside.
Classes in art, handicrafts, music, computers, and Spanish (both conversational and structured) are available. Tennis, golf, walking, jogging, horseback riding, boating, fishing, mountain biking, Tai Chi, and various exercise groups are available for sports enthusiasts. A variety of passive pleasures are available too, such as concerts, art galleries and museums.
Keeping in touch and being informed about many countries and cultures in the world is easy too, as cable television has many English-language stations, the popular CNN amongst them, and satellite reception gives up to two hundred and fifty channels including those beamed down from the U.S., Mexico and from around the world.
On top of the list of active organizations is the 3,000-plus member Lake Chapala Society (LCS) with its well-stocked library of English-language books, periodicals and videos. The library has 20,000 volumes including reference books. There is a magazine collection and a reading room. Talking books are available from the library in both fiction and nonfiction, obtained from the U.S. Library of Congress in Washington, D.C. The LCS is the only civilian organization outside the U.S. to be honored with such an arrangement. The videotape library has approximately 2,500 VHS video movies. Also available are tape duplication and VHS player repair.
The extensive and beautifully landscaped grounds host events such as annual Independence Day celebrations for both the United States and Canada in early July, and an annual fiesta on Mexico's Independence Day, September 16. LCS publishes an annual directory of members' names, addresses and phone numbers, which many who reside lakeside find indispensable. The LCS is dedicated to the ideals of community service, good fellowship and good relations with local citizens and authorities. Open Monday-Saturday, 10 a.m.-2 p.m. and staffed almost exclusively by volunteers. Unfortunately, the LCS does not have a phone.
Additionally, the LCS has a children's library in Spanish with a wide assortment of books and reference materials. They sponsor a scholarship program through this library for selected students in secondaria (junior high) and preparatoria (high school) based on financial need as well as scholastic ability.
Medical equipment available for loan from the LCS includes wheel chairs, crutches, canes, and walkers. Baby furniture for loan includes a crib, a high chair, and walkers.
Free blood pressure checks are normally Monday and Friday from 10 a.m. to Noon. A HAM radio station is located on the grounds, and in emergencies, contact can be made with any place in the world.
Membership is on an annual basis and is open to all.
Safety
Ajijic, and the lakeside in general, has a low crime rate. There are few safer places in the world where one can live.
Health Care
Several clinics are located Lakeside, with the principal ones being Clinica Ajijic at Carretera 33, telephones 766-0662, 766-0500 and for 24 hour emergency, 766-1499; San Andrés Clinic adjacent in La Floresta, 766-1198; and Clinica San Jose de la Ribera at Plaza Maskaras, Hidalgo 79-G, Chapala, telephone/fax 765-4805. Most have bilingual doctors on staff. In emergencies, ambulance service is available from these clinics locally or to large modern medical centers in Guadalajara. Medical air evacuation services are available to the United States as well. The Red Cross, 765-2277, which is located on Calle Gonzales Gallo in Chapala, responds to all traffic accident injuries. The services are at no charge, even if an ambulance has to take you into one of the Guadalajara hospitals or a doctor has to perform surgery. Donations to the Red Cross are always appreciated.
Consular Services
The U.S. Consulate General in Guadalajara, Calle Progreso 175, (3) 825-2700, is open 8 a.m. until Noon, Monday through Friday. Passports can be renewed in one day. Registration of full or part time residents is recommended with the American Citizen Services Unit. Necessary information will be on file in the case of an emergency. It will not be shared with any other agency (like the IRS); the information is strictly confidential. The Federal Benefits Unit handles veterans' claims, railroad pensions, and social security, both inquiries and benefits.
The Canadian Consulate has an office at the Fiesta Americana Hotel in Guadalajara, (3) 615-6270, (3) 615-6266, and (3) 615-6215. Office hours are Monday through Friday, 9 a.m. until Noon.
Of course, all Embassies are located in Mexico City.
Churches
In addition to several Catholic churches [San Andrés in Ajijic has an English language mass, 9 a.m. Sunday] there are Sunday services in English at Saint Andrew's Anglican Church, Calle San Lucas, Riberas del Pilar, 10 a.m.; the nondenominational Little Chapel By The Lake on the highway in Chula Vista, 11 a.m.; New Apostolic Church, Roble 61, Chula Vista, 11 a.m.; El Lago Community Church, Javier Mina 7, Ajijic, 11 a.m.; and the Lakeside Fellowship interdenominational congregation which meets 1:30 p.m. at Saint Andrew's.